I'm trying to "Spread" the word about my little blog and have been encouraged to link up to other people who have graciously set up "linky parties". A place where other bloggers can link their posts and find new friends, followers and share their creativity. Here's where I've linked up today.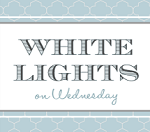 White Lights on Wednesday is doing her first Link Party!! If you're blogging and have something to share, come on by and link up! I'm sure we all could use a little extra Blog Love. I know I do!! Thank you Julie for letting us share our creations on your blog.
I also found a few others that I'm following and thought I'd share some of my latest creations. Please stop by, say hi and maybe find even find a new blog to follow!!